Everest Base Camp Trekking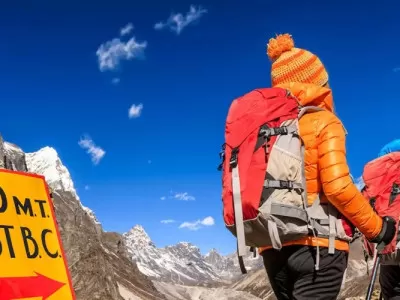 Everest Base Camp Trekking Facts
| | |
| --- | --- |
| Package: | Everest Base Camp Trekking |
| Duration | 14 Days |
| Price | USD 900 per person |
| Transportation | Flight, Private vehicle or tourist bus |
| Group Size | 2+ |
| Difficulty | Fairly Challenging |
| Max Elevation | 5,550 m |
| Accommodation | Hotels/Mountain Lodges |
| Meal | Full board in trek and breakfast in Kathmandu |
| Trip Start / Ends | Kathmandu / Kathmandu |
| Trip Note: | Price offered is full inclusive and it is quoted in USD. Trip will only starts when you will arrive to Kathmandu International Airport. The given itinerary is just a standard itinerary and could be customized on request. |
Trip Overview
Everest Base Camp Trek is one of those experiences in Nepal which draws in the consideration of several trekkers who anticipate composing stories of their own.
Everest base camp trek is one of the most popular trekking adventures in Nepal. It is wonderful and unforgettable journey of the life to experience the mastic view of world highest peak Mount Everest. During this trekking we can grab an opportunity of having views of mount Lhotse, mount Makalu, and other region of mountains. It is great life time moment for travel lover to experience the mountain range as well as alpine environment. EBC trek is ionic trek in khumbhu region of Nepal which also offers you a chance to explore the culture and life style high altitude living peoples and wildlife.
Everest Base Camp trekking 14 days is one of the most challenging and adventure trekking chains around this planet. Being at the base, highest peak of the world along changing weather condition in mere minutes with giant close view of Mount Everest holding other numerous tall and short snow-capped mountains are the real fabulous attraction of this trekking destination.
Everest Base Camp Trekking is the trek to the base camp of the world's highest pick, Mt. Everest (8848m), which allows the trekkers to investigate the Himalayan scene and culture from very close. The journey begins with your entry in Kathmandu pursued by a picturesque flight from Kathmandu to Lukla. The Everest Base Camp Trek includes an appealing display of Mt. Everest (8848m), Mt. Lhotse (8516m), Cho Oyu (8201m), Mt. Pumori, (7161m), Ama Dablam (6856m), Mt. Khumbila (5761m) and numerous other tremendous peaks seen from Khumbu locale.
Everest Base Camp Trek is an unforgettable adventure that takes you to the base of the world's highest mountain, Mount Everest. Trek to Mount Everest Base Camp and marvel at the grand sights of the Himalayas. Snow covered mountains unfold at every Overview. Everest Base Camp Trek is the best known and ideal world's best enterprise goal in the Himalayas. Trekking to the Mount Everest base camp in Nepal is an extreme objective for trekkers and a start of the endeavor offer for the climbers. Everest Base Camp Trek is the most popular trekking adventure in Nepal. 14 Days Everest Base Camp Trekking, a suitable package provided with comfy budget for every traveler to make their fantasy become reality. Enjoy your Everest base camp trekking
The trekkers get an opportunity to investigate Sagarmatha National Park which is home to assortments of greeneries and faunas. Everest Base Camp Trek additionally includes the amazing Kala Patthar which is the best perspective to savor the magnificence of Mt. Everest. Discussing Everest, the trekkers will likewise visit the inn arranged at the most elevated height, Hotel Everest View, which is additionally celebrated for the awesome scene of Everest saw from its premises.
Everest Base Camp Trek is an astounding chance to comprehend the Sherpa culture of the Himalayan towns like Namche Bazaar, Tengboche, Dingboche, Pheriche, Phortse, and numerous other Himalayan towns along the trek course. The trekkers will likewise go over numerous Buddhist cloisters (Gumbas), stupas, Chortens, and Mani dividers, on the way. Everest Base Camp Trek guarantees to furnish you with every one of the undertakings and recollections required for your ideal story of the Himalayas.
This 14 days trekking package up to the base camp of Mount Everest begins with the stunning flight to Lukla from Kathmandu. Developing trek forward offers a close view of many highest mountains including Mount Everest (8,848 m), Mount Lhotse (8,501 m), Mount Cho Oyu (8,153 m), Mount Makalu (8,163 m), Island peak (6, 189 m) and Mount Amadablam (6,856 m). Kalapathar view, stunning glaciers, Sherpa settlements, Sagarmatha national park, pine and rhododendron forests, numerous suspension bridges, former Buddhist Monasteries, ethnic praying stones, flattered praying flags and tea house are an additional offer of Everest base camp trek. After stepping our destination we retrace the same route towards Lukla and fly back to Kathmandu. 5,545 m is the highest elevation point of this trekking destination so our itinerary is designed focusing to acclimatize you gradually which helps to keep you away from altitude sickness.
Not Only stunning mountains views but also rich Cultures of the legendary Sherpa People!
The trekking trail of the Everest Base Camp includes the cultural and lifestyle of Sherpa people. Ancient Buddhist monasteries, rich biodiversity, glaciers with magnificent views of the Himalayas, deep Valley, stunning landscapes, and many more. Everest Region in Nepal is home for an ethnic group of Sherpa, where trekkers get an opportunity to encounter with rare and unique cultures, traditions, living pattern, lifestyle and so on. People show friendly behavior with visitors during trekking and lodging.
The best time to visit the Everest Base camp!
June, July and August are monsoon season in Nepal, so Pre-monsoon and post-monsoon months are the best time to do the trek in Everest base camp, and the temperature is also okay to make our trek successful. The trekking welcomes to trekker with multi-color flowers and greenery, which will be able to eliminate tiredness of high altitude and make you always excited during your trek. Apart from this beautiful scenery, trekkers and travelers also can have bright and magnificent views of the Himalayas from different viewpoints existed in the Everest Region. Make a vacation trip with us we carefully organize 13 days itinerary to an accomplished stimulating expedition to Everest Base Camp.
The trekking trail of Everest Region!
This top Himalayas trek begins with views of the white and green Himalayas. It will be several steep uphills and downhills with the mesmerizing sceneries of the Himalayas in the backdrop. The visitor will explore several villages that come on the way like Lukla, the famous gateway to Everest trek, Phakding, a Sherpa village, Namche Bazaar, Tengboche, Dingboche, Lobuche Kalapatthar and Everest Base Camp. The trekking trail with the colorful several mini stones, Chhorten, prayers flags, wheels and many more, which will reward you. During our trekking, exploring spectacular mountains views from the Everest View Hotel, the famous viewpoint and exploring Tengboche Monasteries, Khumbu Glaciers, and the splendid Icefall is awe-inspiring. The EBC gives trekker an unforgettable satisfaction of the view and experience. After exploration of the world highest peak's lap, you will return to Kathmandu by following the usual route.
Everest Base Camp Trek gives you one of the best trekking experience on the planet. On this 14 days trek you will explore the rugged terrain of Sagarmatha national park (1148 Km2) and discover the Mount Everest 8848 m, numerous peaks, glaciers, alpine lakes, waterfalls, river streams and diverse species of flora and fauna.
This is one of the classic treks of the world with stunning mountain scenery. With our itinerary you get the opportunity to trek to both Ama Dablam Base Camp and Everest
We provide Mt. Everest base camp trekking from both Tibet and Nepalese side. From Tibetan side it is about a 10 days tour on a four wheel drive and walking. Join us on a trek to Mt. Everest's base camp at 17,590 feet.
Along the way, visit the remote town of Kathmandu and learn about the Sherpas. Everest Precipitation Patterns The Everest Base Camp Region is fairly dry with an average of 18 inches of precipitation received at base camp. Most of the precipitation that does fall (80%+) occurs during the monsoon season of June to September and the rest of the year is fairly. The Everest Base Camp is one of the most popular destinations for trips to the Himalaya regions. How to get to the base camp to witness the top of the world is often asked by tourists who are planning their first trip to the Everest.
The best Trekking Tours in Everest Base Camp trek, delivered by top Everest Base Camp trek travel specialists.
EBC Trek is a famous challenging trek in Khumbu, Nepal. For information on preparing for this trek, including when to go, what to bring, what permits are required, and safety precautions including altitude sickness, and water contamination, see Trekking in Nepal.
Everest Base Camp Trekking is understandably one of the world's most popular and spectacular hiking holidays destinations of Nepal, Nepal Everest base camp 14 days trek offers fascinating and enjoyable trekking experience to the trekkers. Everest is more than a mountain and the journey to its base camp is more than just a trek. Along a route dubbed by some as "the steps to heaven," every bend in the trail provides another photo opportunity beautiful forests, Sherpa villages, glacial moraines, and foothills.
EBC trek highlight:
Everest base camp trek is awesome trekking to experience the scenery view of world highest peak mount Everest. Beside this, trekking to EBC consist view of other mountain like Makalu, Lhotse as well as wildlife, national parks, gorges and glaciers. Journey to Everest base camp commence from beautiful city of Nepal-Kathmandu with short scenic mountain flight to Lukla airport .It is also a gateway to Everest region which is about 2840m altitude from sea level. Before obtaining Everest base camp trekking permit we need to pass Sagarmatha national park. During this, we can view ancient monasteries, flora and fauna found on high mountains.
Everest Base Camp Trek Cost:
Cost for EBC trek may vary as per Travel Company as well as travel Itinerary along with personal expenses during trekking. Generally, it cost about $1500 including cost of lodging transportation as well as permit for trekking but not including personal expenses and insurance
Everest Base Camp Trekking Itinerary 2020
Day 1: Arrival in Kathmandu (1,300)
Day 2: Fly to Lukla (2,840 m) and trek to Phakding (2,610 m)
Day 3: Trek to Namche Bazaar (3,440 m)
Day 4: Namche Bazaar – (acclimatization day)
Day 5: Trek to Tengboche (3,867 m)
Day 6: Trek to Dingboche (4,358 m)
Day 7: Dingboche – (acclimatization day)
Day 8: Trek to Lobuche (4,928 m)
Day 9: Trek to Everest Base Camp (5,320 m) and Gokarshep (5,160 m)
Day 10: Trek to Kala Pathar (5,550 m) and Pheriche (4,358 m)
Day 11: Trek to Namche Bazaar (3,440 m)
Day 12: Trek to Lukla (2,652m)
Day 13: Kathmandu (1,300 m)
Day 14: Departure
Everest Base Camp Trekking Itinerary
Day 1: Arrival in Kathmandu (1,300)
The first day, following your arrival hour at Tribhuwan International Airport our company representatives will warmly welcome and receive you and escort you to tourist standard hotel. We also schedule a meeting for briefing, regarding the trek and complete whole office formalities.
Day 2: Fly to Lukla (2,840 m) and trek to Phakding (2,610 m)
The second day following our schedule some hours after having breakfast, we will get transferred to Tribhuwan International airport to catch our domestic flight towards Lukla. After 30 to 35 minute of pleasing flight over the Himalayas, we land on Tenzing Hillary Airport at Lukla and meet our porters with other crew members there. Along with quick packing and arrangements, we develop our short (3 to 4 hours) trek towards Phakding to assist proper acclimatization and for stay overnight.
Day 3: Trek to Namche bazaar (3,440 m)
The third day, holding an aim of stepping Namche Bazaar, triggering our trek forward we leave Phakding. Walking through the east bank of Dudh Koshi River along crossing several suspension bridges and beautiful rhododendron forests lastly, we reach Monjo (gateway of Sagarmatha national park) where you can enjoy tea shops and monasteries. Quitting Monjo, ultimately official permit check post arrives and finishing all the conditions, we start the hike towards uphill finally we reach Namche Bazaar for staying the night.
Day 4: Namche bazaar: (acclimatization day)
The fourth day is separated for acclimatization day because acclimatizing before ascending height is very essential. As we are on high increasing elevation more than 3,000 m, we need proper acclimatization for that we don't develop our journey this day. We don't develop our trek doesn't sense that we stay idol but we stay operating and this day we plan to explore nearby villages, visit the museum, national parks and enjoy on internet free cafes on beyond time.
Day 5: Trek to Tengboche (3,867 m)
The fifth day after having breakfast, our generated trek passing through zigzag trails, memorial stupas, Rhododendron and pine forests, suspension bridges over Dudh Koshi River and many settlements, which takes us to Kyangjumg. Following the trek forward through short and long mini walls viewing many snowcapped mountains and rare flora and fauna, offers the most beautiful location of Everest region, Tengboche. After steeping Tengboche, we sight ancient Tengboche monastery (oldest Khumbu region monastery) and night will be spent at a lodge in Tengboche.
Day 6: Trek to Dingboche (4,358 m)
The sixth day after having hot breakfast at the hotel, we trek following stone steps and hike down to cross over Imja Khola. Crossing many flat trails, bridges, yak herds, alpine meadows and catching west bank of Imja River, we climb for a short time to reach Dingboche. Stone walls, magnificent chortens, steep climbs and many eyes catching views are ofference of winning Dingboche. The extra time will be sent exploring the attractions of the villages and views of mountains along sixth night will be spent at the lodge in Dingboche.
Day 7: Dingboche: (acclimatization day)
Seventh-day is a second separated day for acclimatization because we are already above the height of 4,000 m so we need proper acclimatization. This day we explore Dingboche valley or hike up to Chhukung towards the island peak and sight many well known and famous peaks. This evening time, we prepare our muscles and relax to hike the remaining distance and night will be spent in the same lodge in Dingboche.
Day 8: Trek to Lobuche (4,928 m)
The eighth day, after having delicious breakfast at Dingboche, we develop our trek towards Palrung Kharka crossing Dusa to reach Dungla. On the further way, we cross many suspension bridges across roaring stream, memorial stupas, Different Lakes, Wooden bridges, and mountains. After reaching Dungla, we head gently upward towards crossing Khumbu Glacier to reach Lobuche. This day is a stunning day to sight large glacier and steps of the Khumbu region.
Day 9: Trek to Everest Base Camp (5,320 m) and Gokarshep (5,160 m)
The ninth day is the day to step on the final desired destination point passing pyramid sign. After short breakfast we head forward leaving Lobuche, targeting towards Everest base camp. We pass many Glaciers, passes, and pyramid to reach Gokarshep and have a Lunch there. Along following the route, walking through rocky trail and glaciers finally we step Everest base camp. Nearly small ascend offers 360 views of tall mountains from the top which is amazing. After spending some hours of time to capture the moments, we come down to Gokarshep to stay and spent the night.
Day 10: Trek to Kala Pathar (5,550 m) and Pheriche (4,358 m)
On the tenth day from Gokarshep, we start our hike upward to Kalapathar early morning before sunrays hit the mountains. After walking some hours leaving Gokarshep we reach to the famous viewpoint of Kalapathar and sight the amazing view of Kalapathar being changed by the morning direct sunlight. More great views of famous and tall mountains are offered from the viewpoint of Kalapathar. After having some shots and amazing views throughout us, hike back to Gokarshep and continue towards Pheriche for the night.
Day 11: Trek to Namche Bazaar (3,440 m)
The eleventh day leaving Pheriche early morning after sweet breakfast, the trail is quite easy downhill till Pangboche. After reaching Pangboche down to Imja Khola crossing lush forests along crossing the bridge and little distance climbing offers Tengboche. Developing our walk continuously forward crossing many mini walls, monuments, stupas and praying flags we reach Namche Bazaar and waste our evening time enjoying Sherpa cultural dance and music with tasty Sherpa dishes.
Day 12: Trek to Lukla (2,652m)
On the twelfth day after having early morning breakfast, we follow our trek back catching the same route that we had developed before. We drop down to cross the bridge across Dudh Koshi River and a little distance walk offers Monjo. Finishing some formulations on same pass point we descend to Phakding crossing other settlements. Following the trail crossing same Lush forests and rivers expanding the lifestyle of Sherpa settlement and terraced field will finally offer you Lukla. This is also the last night to spend on the Himalayas.
Day 13: Kathmandu (1,300 m)
On the thirteenth day is last day on Khumbu region so we return back to Kathmandu catching morning flight. Guide manages all the formalities for your flight and hires porters for your bag and luggage. Half an hour after catching a scenic flight over the mountains, we land on Tribhuwan International Airport (Kathmandu). Our private vehicle will be there to pick you up and escort towards the fine hotel. On evening hour, we host a dinner in a popular Nepalese restaurant where you can enjoy Nepali cultural dance and music along.
Day 14: Departure
Last day of trekking, you can visit around Kathmandu valley for having fun and collect some memories or go shopping before the flight time. Our company's private vehicle will take you to airport focusing your flight time for your final departure and our representative wishes for your safe journey with respects and greetings at the airport.
Trip Includes/Exclude
Equipment List:
Warm Clothes, windproof jackets, thermal wear, warm socks, scarf and woolen cap.

Proper hiking boots, running comfortable shoes and a pair of flip-flops.

T-shirts and hiking shorts

Backpack and backpack cover (against rain and dust)

Head torch, or small torch, plus spare batteries.

A small light weight and quick drying towel.

Water bottle and water purification tables

Water purification tables or a water filter

Sleeping bag and silk liner

Some Diamox pills against potential altitude sickness (if going beyond 4,000 m elevations)
Quick Enquiry / Booking
All your information is safe and secured with us.
Price Starting From
USD 900pp
We do small group or private trip as your request.
For quick information contact us at WhatsApp/Viber +977-9849354236
This trip can get redesigned and redeveloped as per your taste, for more information please e-mail us at [email protected]
Stunning View and Spiritually Rich - EVEREST
Verna N. Carson
This past year, I had done trekking into Nepal for the Thrill experience with all the ABC himalayan trekking and tours team and the provider reacts to our question very quickly with great response and clear detail. It is hard to write this review without getting hyperbole following hyperbole. They provided the best Hotel rooms, standard lodges with quality dinner and foods. Our guide created a plan to perform the short Everest Base Camp and this trip easily finished with a humble guide. The trek was about a stunning view of snowcapped mountains and glacier-fed river and landscape which grows increasingly and also the weather was bright - clear blue sky with no rain and otherworldly scenery. Climbing into the top hill behind Namche Bazaar you are rewarded with the very first view of Mt. Everest, Nuptse, Lhotse to the north. This area is truly rich by diversity, ethnic groups, and civilization. I heard so much about hiking and Nepali culture during the trek and 100% recommend ABC Himalayan trekking and tours Nepal.