Muktinath Jeep Tour Package From Kathmandu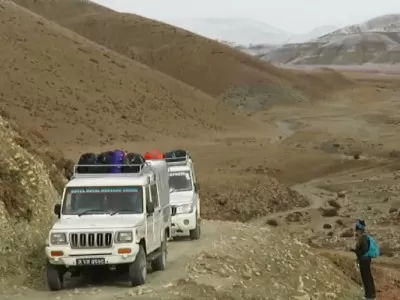 Muktinath Jeep Tour Package From Kathmandu Facts
| | |
| --- | --- |
| Package: | Muktinath Jeep Tour Package From Kathmandu |
| Duration | |
| Price | USD 70 per person |
| Transportation | Jeep |
| Group Size | 8 |
| Difficulty | Moderate |
| Accommodation | Hotel and Lodge |
| Meal | Included |
| Trip Start / Ends | kathmandu / kathmandu |
| Contact Detail (Viber/Whatsapp) | +9779843724104 |
| Trip Note: | Price offered is full inclusive and it is quoted in USD. Trip will only starts when you will arrive to Kathmandu International Airport. The given itinerary is just a standard itinerary and could be customized on request. |
Trip Overview
Jomsom Muktinath Jeep Safari makes your fantasy to have a pilgrimage visit to the Muktinath temple come home alive. It is the quickest tour to Muktinath that starts from Kathmandu. It connects the Annapurna area with the Mustang region. Jomsom is the district center of the Mustang region. The Muktinath temple is among the most famous pilgrimage sites in Nepal, which is known as sin removing pilgrimage. It's beautifully located beyond the Annapurna region. Jeep safari to Muktinath raises your excitement to see that the Himalayan wonders of the Annapurna and Dhaulagiri peaks which allure you extremely. This Muktinath yatra tour is only applicable to Nepali Citizens.
Muktinath tour package let you explore the muktinath temple for both hindus and buddist.
Feel the spiritual splendor of this Himalayan Lord and glorious Himalayan surroundings. You think, we assist you with planning and come success. Indian Pilgrimage Devotees, please, contact us to personalize the excursion and Indian rate. If you're with the age over 70, please get in touch with us to personalize the trip by airplane (Kathmandu to Jomsom flight, Jomsom to Muktinath from the jeep, Muktinath Helicopter Tour).
Muktinath Jeep Tour Highlights:
Exciting Jeep drive
World's deepest Kali Gandaki gorge
Holy Muktinath temple
Cascading waterfalls
Stunning Kali Gandaki valley
Muktinath Darshan by Jeep Price/Cost:
| No.of Traveller | Price per person |
| --- | --- |
| 1 | NPR 48000 |
| 2 | NPR 24000 |
| 3 | NPR 16000 |
| 4 | NPR 12000 |
| 5 | NPR 10000 |
| 6 | NPR 8200 |
| 7 | NPR 7000 |
Muktinath Jeep Tour Package From Kathmandu Itinerary
Day 01 Drive from Kathmandu to Pokhara. 6-7 hours. Overnight at the hotel.
Day 02 Pokhara to Jomsom via Tatopani. 8-9 hours. Overnight at lodge.
Day 03 Drive to Muktinath via Kagbeni and drive back to Lete. Overnight at lodge.
Day 04 Drive from Lete to Pokhara. 6-7 hours. Overnight at the hotel.
Day 05 Drive from Pokhara to Kathmandu. 6-7 hours.
4 days Muktinath Yatra Itinerary
DAY 1
Drive from Kathmandu to Pokhara – 7 hours Jeep drive.
Pokhara Night Stay
DAY 2
Drive from Pokhara to Jomsom – 7 Hours Jeep drive.
Jomsom Night Stay
DAY 3
Drive from Jomsom to Muktinath – 1 Hour Jeep drive. Puja and Darshan in the Muktinath Temple.
Drive from Muktinath to Pokhara – 9 Hours Jeep Drive
Pokhara Night Stay
DAY 4
Drive from Pokhara to Kathmandu – 7 Hours Jeep Drive
Trip Includes/Exclude
All your information is safe and secured with us.
Price Starting From
USD 70pp
We do small group or private trip as your request.
For quick information contact us at WhatsApp/Viber +977-9843724104

This trip can get redesigned and redeveloped as per your taste, for more information please e-mail us at [email protected]
A lifetime experience in Muktinath
Chinnaswamy
Although the road to Muktinath is hard and tough, the outcome is magnificent. This place itself is one of the most beautiful places I have ever traveled. It is believed that one can get salvation by taking bath in 108 waterspouts and two kundas (ponds) placed in this reason.
Great Muktinath yatra experience
Ram Krishna
This place has religious importance for both Hindus and Buddhists. I took a bath in waterspouts and kundas and believe that all my sins were washed away. I loved to trek in this area and views of the surroundings were just amazing.
Featured / Related Package